BALANCED SCORECARD OVERVIEW
Your strategic objectives become meaningful only when they are supported by an effective strategic management system. ProcessQM LLC offers an opportunity to convert your strategy into a one of a kind balanced scorecard that your organization can use to effectively manage strategy execution.
The balanced scorecard concept that completely changed the way we view metrics today owes its popularity to the early 1990's publications of Robert S. Kaplan and David P. Norton in the Harvard Business Review. The balanced scorecard has evolved from the performance management framework to a strategic management system that has been widely accepted by the business sector, government agencies and non-profit organizations worldwide.
STRATEGY MAP
While there are different approaches to implementation of a balanced scorecard system and each scorecard is unique as it reflects a strategic direction of an organization, the basic idea behind the scorecard development is the same. The key is to develop a strategy map that runs the organizational strategic objectives across four perspectives (1-financial, 2-customer, 3-internal business processes, 4-learning and growth) in a logical manner to capture financial and non-financial objectives (shown as circles in the strategy map template below).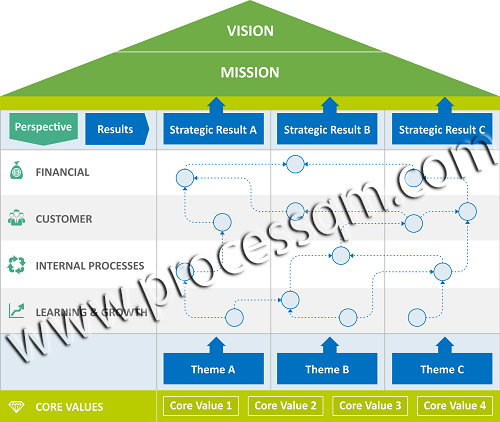 SCORECARD DEVELOPMENT
Once the strategy map is developed, the balanced scorecard development follows breaking each strategic objective into specific measures, targets and strategic initiatives. Owners and due dates are identified, and accountability is placed through periodic monitoring and action plan development.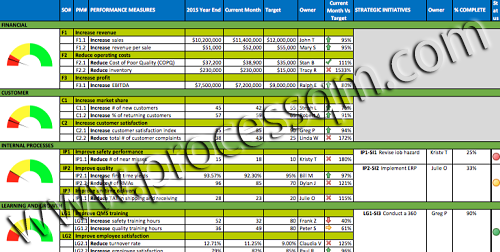 Each identified measure is further cascaded at the departmental and team level ultimately linking the high-level vision of the organization to specific actions taken by individuals on a weekly and daily basis. We'll work with your department managers and their teams to set up a routine for effective management of your departmental measures.
CONTACT US today to learn more about our approach to the balanced scorecard development process.