QUALITY MANAGEMENT SYSTEM DEVELOPMENT
Our team of quality management professionals specializes in various standards such as ISO 9001, NQA-1 and many others. ProcessQM LLC will be happy to develop or improve your existing quality management system (QMS) based on your organizational needs as well as customer, regulatory and other requirements.
We apply a process-based approach to the QMS development to ensure that your activities are documented and organized as a system of interrelated processes that add value to your organization. We also provide QMS training and implementation support. That's what makes us unique. We don't just develop quality management systems and project quality assurance plans, we provide necessary resources and help you with implementation. Your designated process owners will be equipped with the tools necessary for effective management, monitoring, measuring and improvement of the core and support processes of the organization.
QUALITY MANAGEMENT SYSTEM STRUCTURE
Your quality management system will be structured in accordance with the logical flow of your processes. It can have multiple tiers as shown below or consist of only a few pages of documented information. It all depends on the size and complexity of the organization, applicability of requirements, risks involved as well as opportunities. In any case, it will be accessible and user-friendly.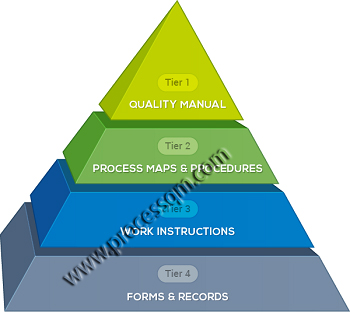 QUALITY MANAGEMENT SYSTEM CERTIFICATION
Are you looking for ISO 9001 Certification Consultants to help you with your ISO registration?
Are you preparing your organization for an NQA-1 audit to become an approved NQA-1 supplier?
Do you need help with a different quality standard?
We will guide you every step of the way! We will take care of all the administrative tasks such as finding a registrar when needed, filing required paperwork, scheduling a third or a second party audit (depending on the audit type), managing the audit process on your behalf, working with affected process owners on addressing audit findings, completing corrective action request forms, formally responding to the audit report, and ensuring receipt of your registration certificate or a confirmation of your approved supplier status.
CONTACT US today to learn more about our services!